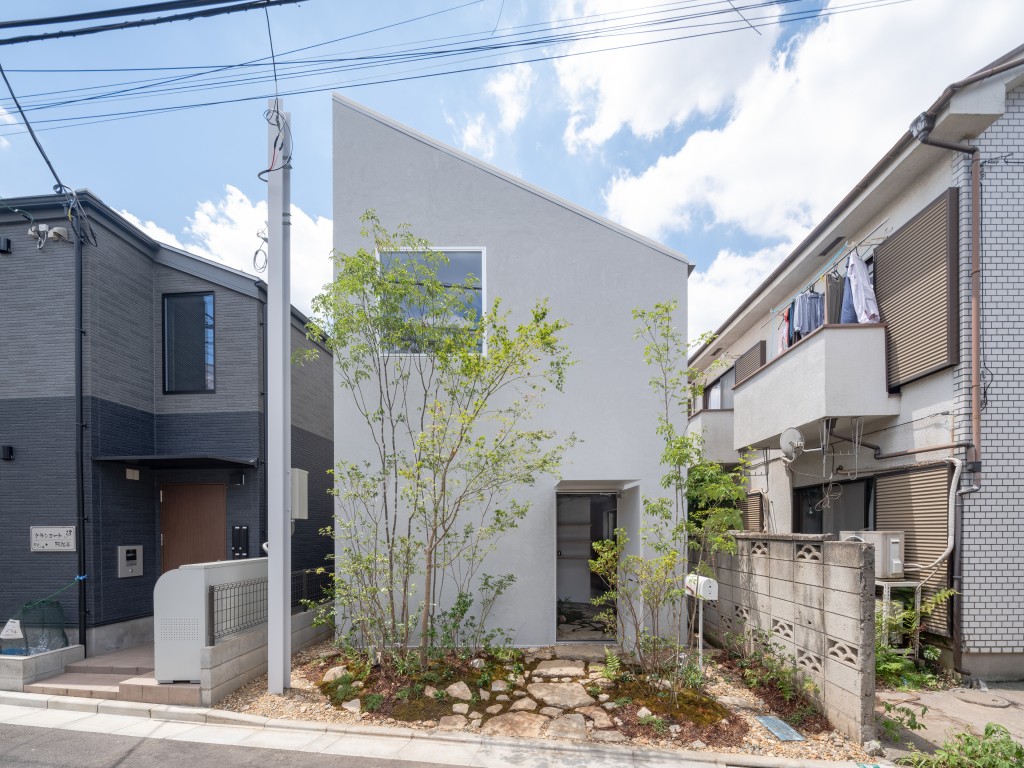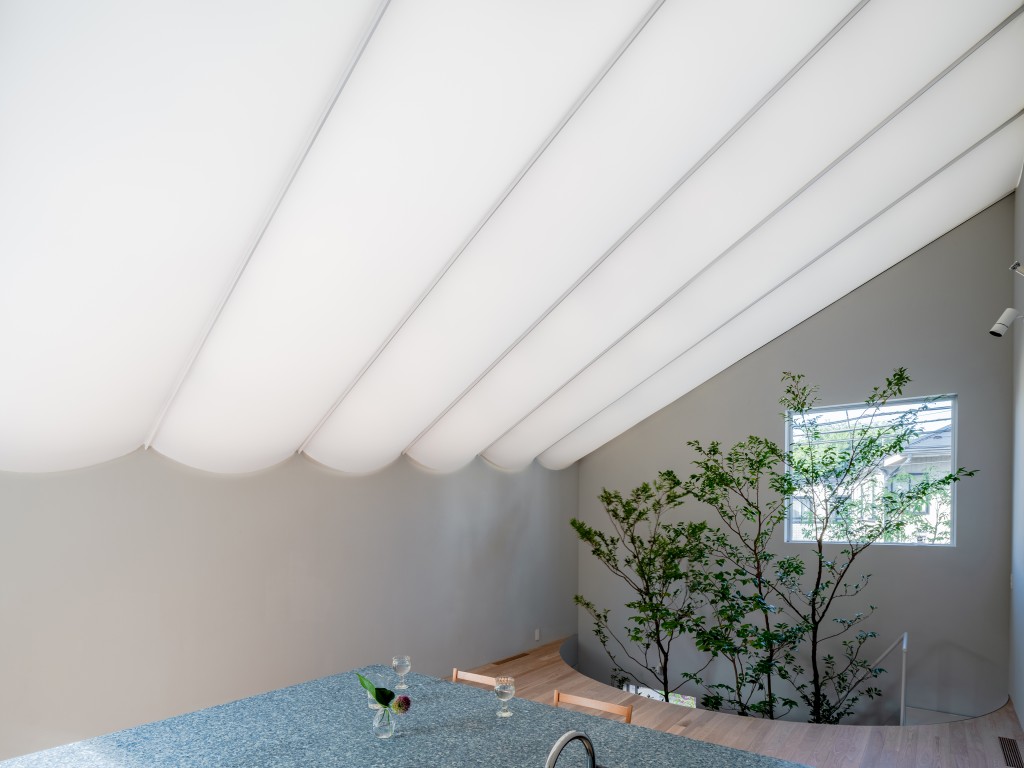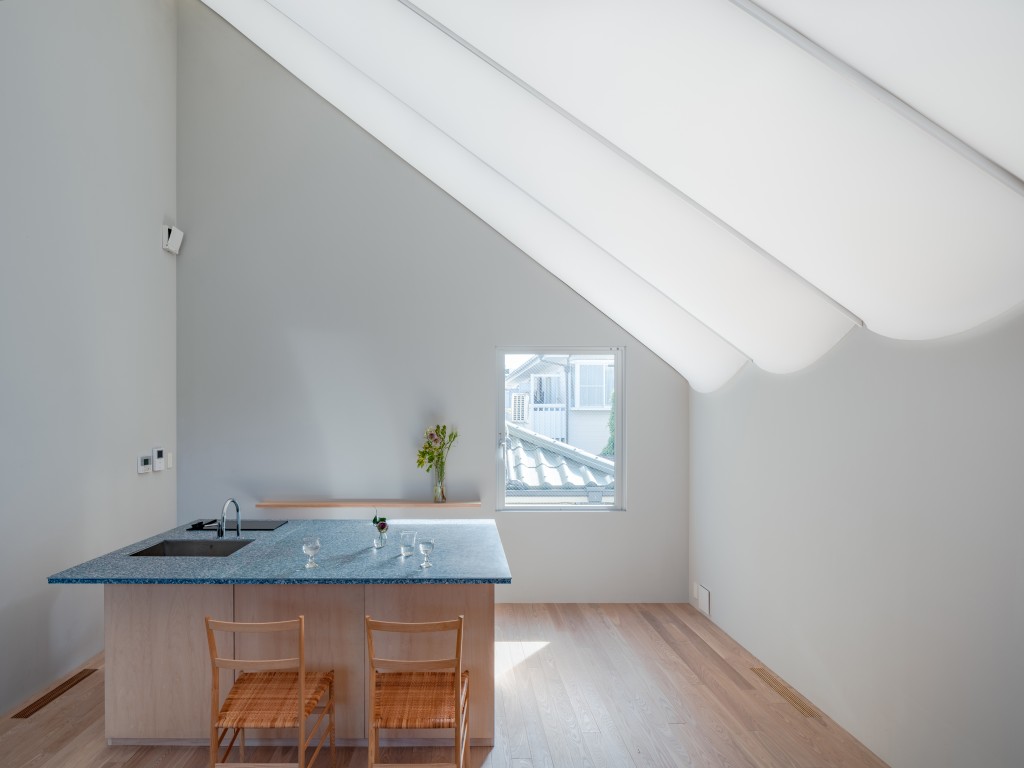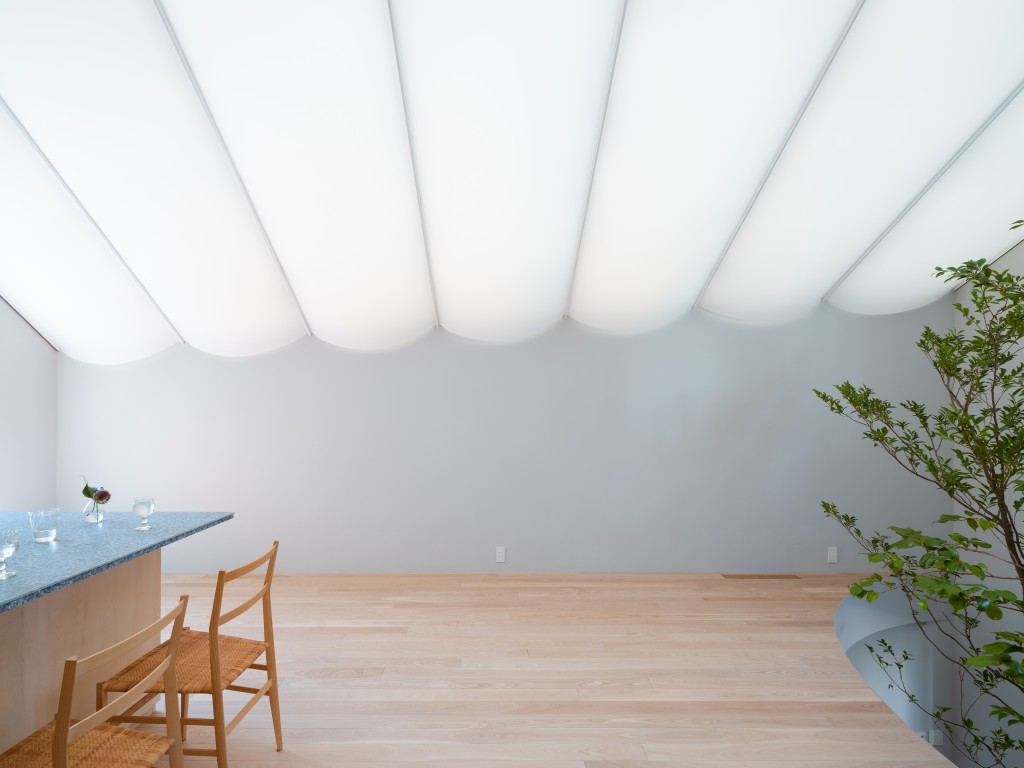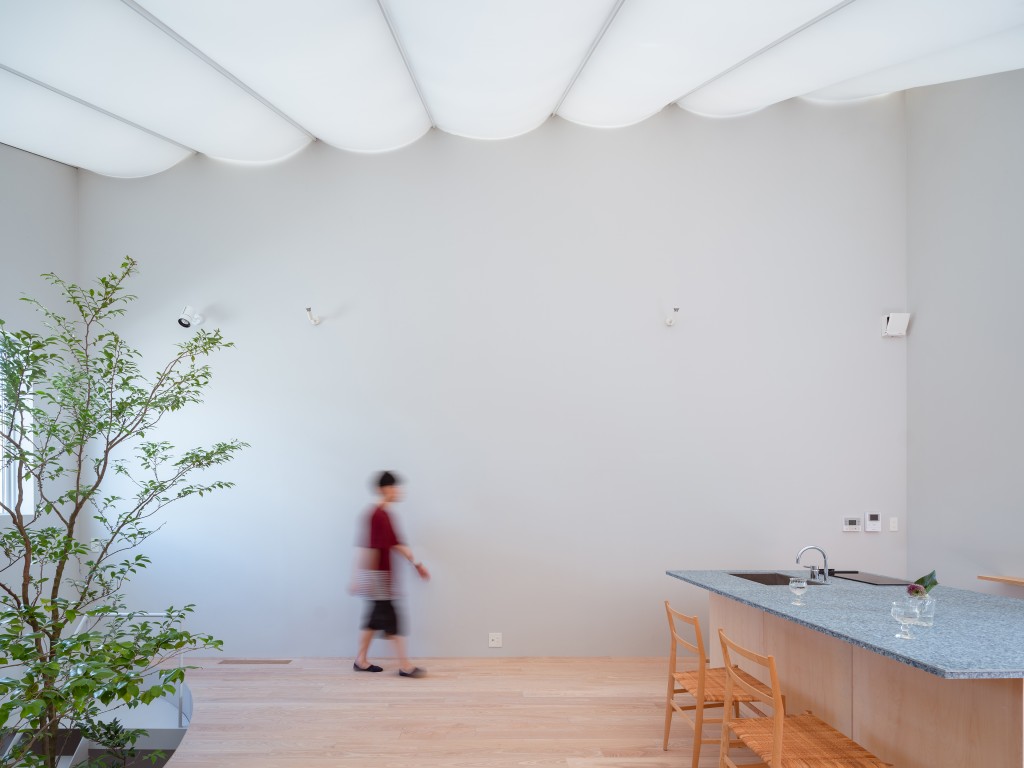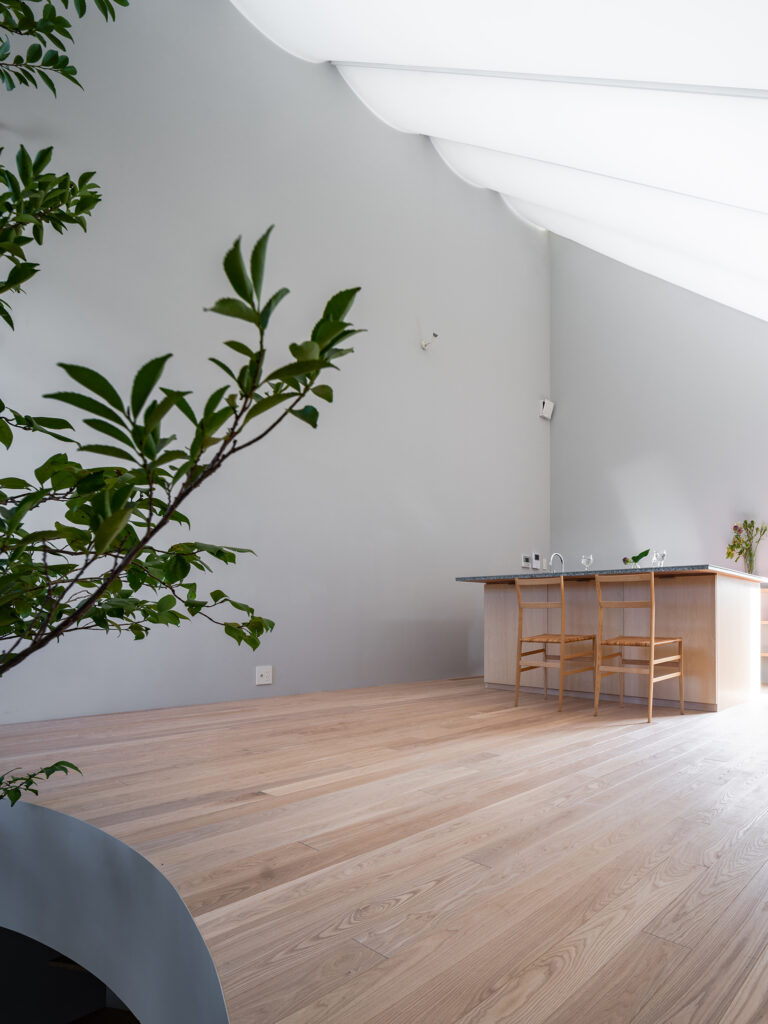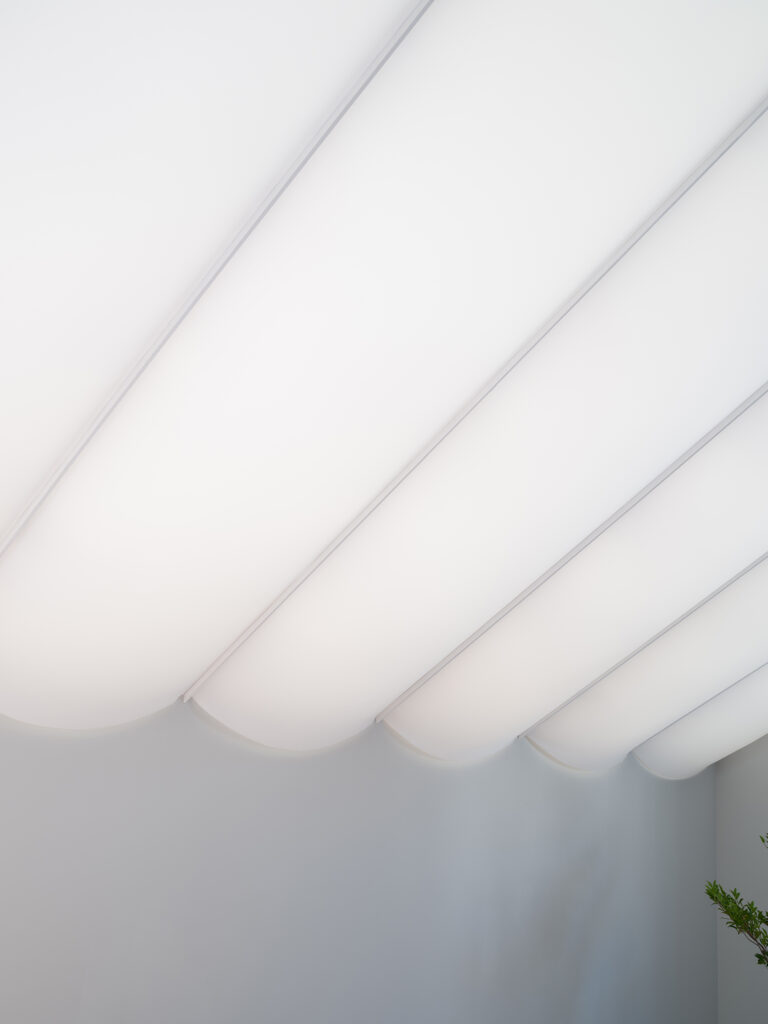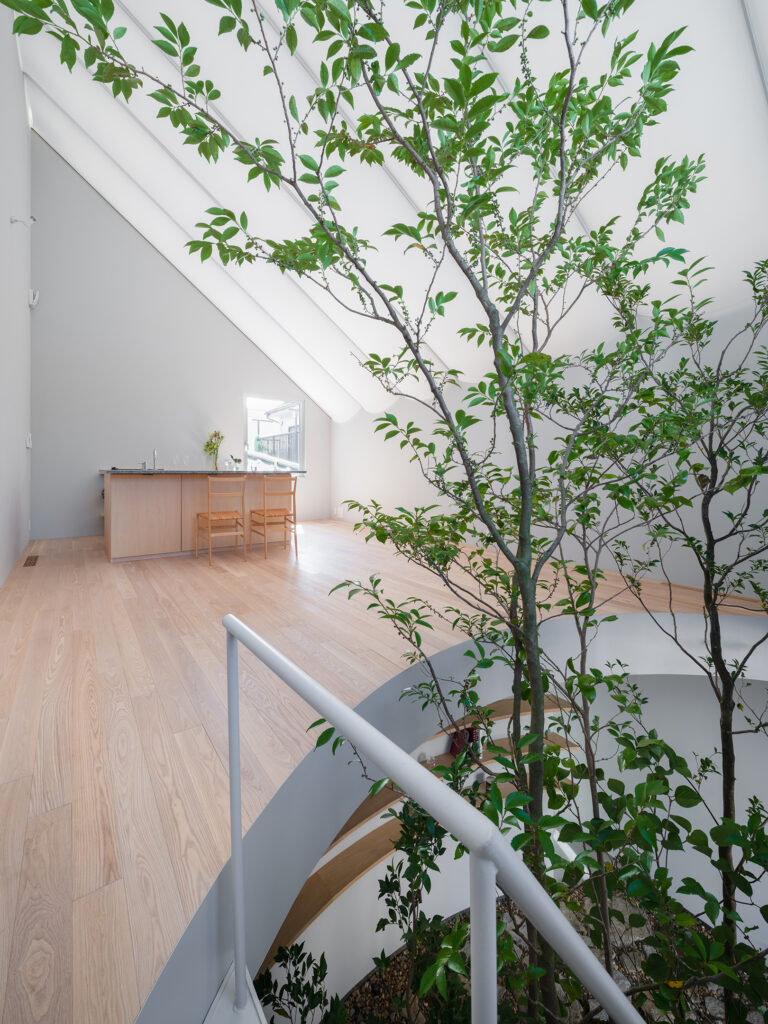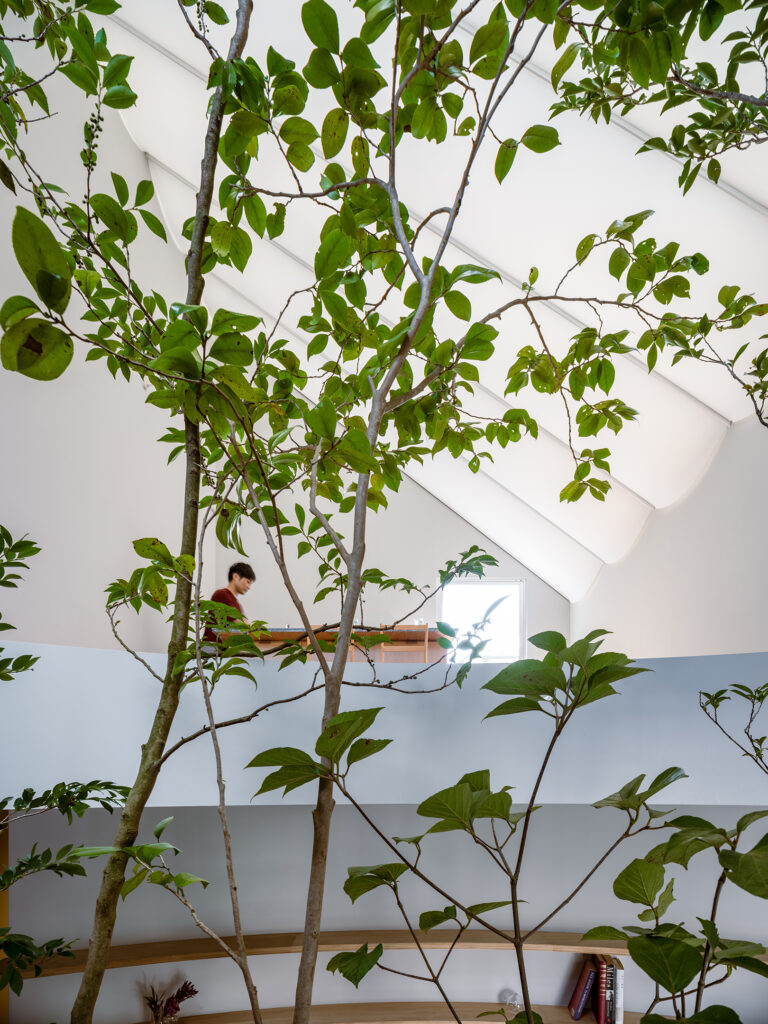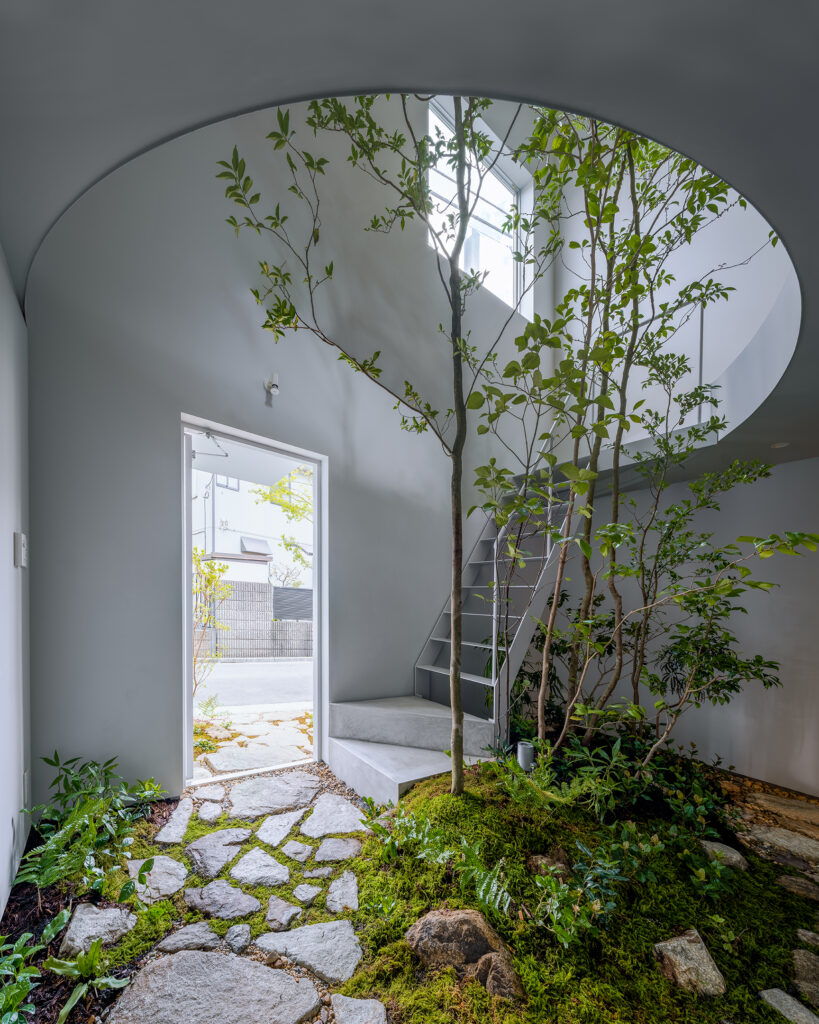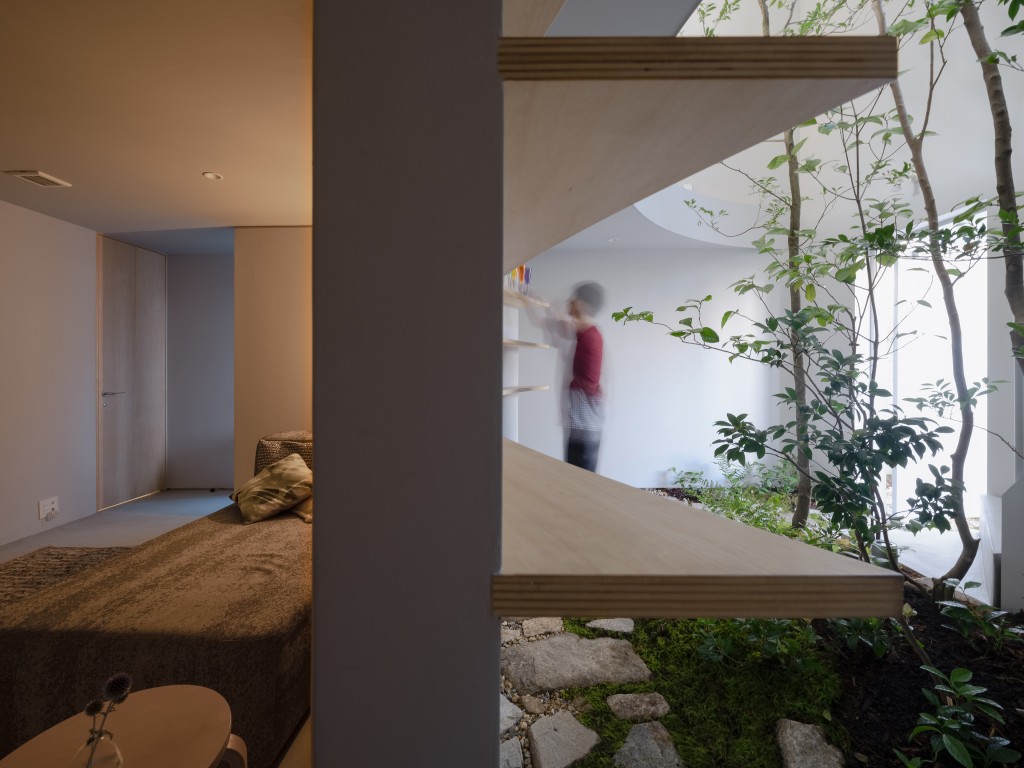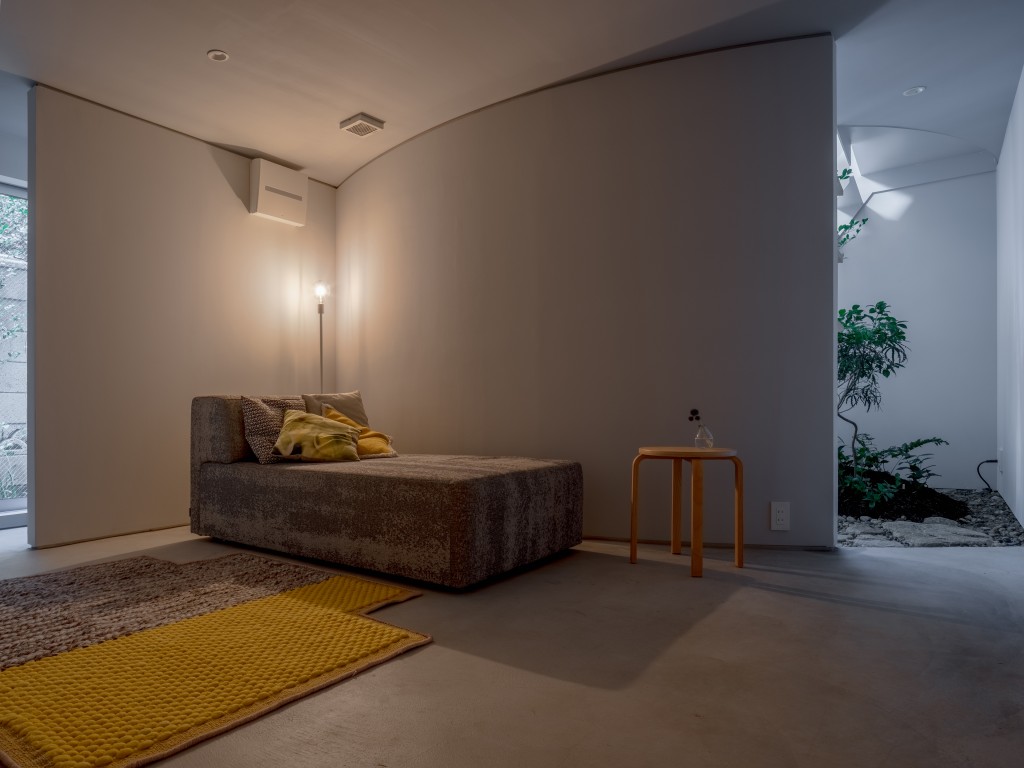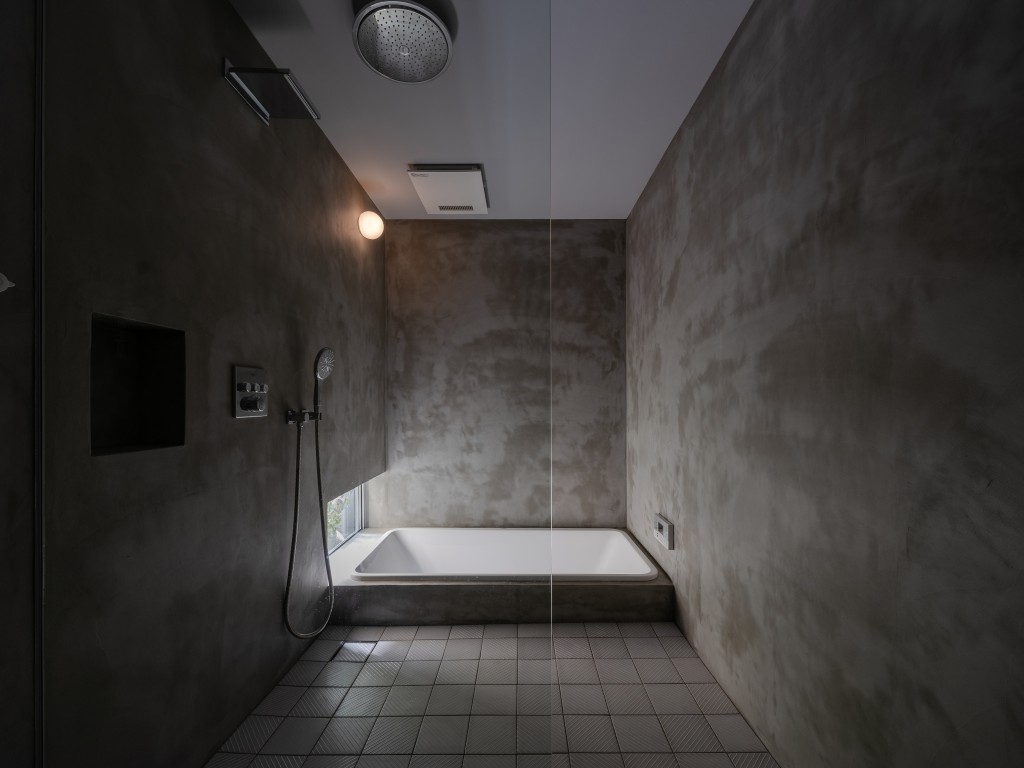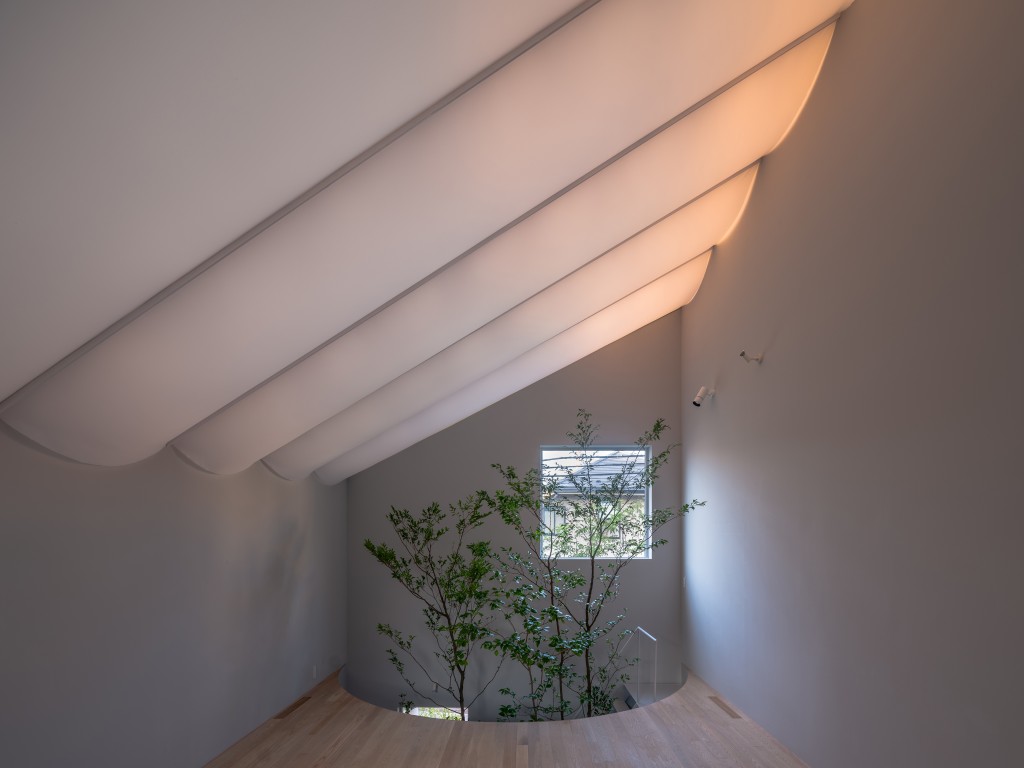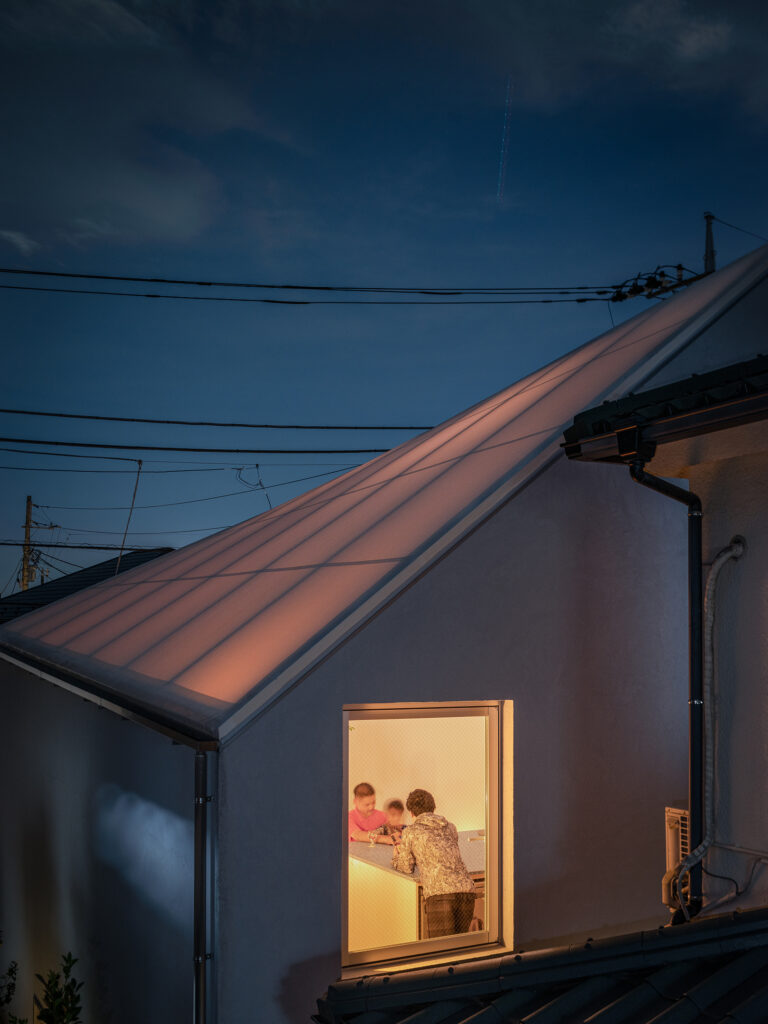 It is a private residence located in a dense residential area in Tokyo. Like camping in the city, the home is designed for the owner to enjoy the everyday life of inviting friends over and unwinding in his own space. The adaptiveness of the home and its functions are reflective of the owner's nomadic lifestyle.
The site is enclosed by its surrounding buildings on all sides except for the narrow frontage facing the street. Since this site condition restricts from having large openings in the exterior walls, light is brought in from above. The membrane roof brings soft diffused light into the second floor and the atrium carries the light down to the ground floor. While the second floor is a brightly lit public space, the ground floor contains private spaces such as the bedroom and the bathroom with reduced natural daylight. Like being inside a dimly lit cave, it is a calm space to relax and sleep. To maximize the building footprint within the site boundary, an indoor garden with a tree is placed in the skylit atrium in lieu of an exterior garden. By bringing the garden inside, the owner can live in direct contact with nature, rather than solely observing nature through the window.
The overall roof is constructed in a bendable membrane material to create a three-dimensionally contorted surface. This roof is a double-membrane structure made of an upper and lower membrane with the structure and thermal insulation sandwiched in between. The lower membrane is hooked to the ends of T-shaped structural beams in a catenary curve shape, creating a ceiling lined in semi-circular light tubes. The air space within the roof acts as the thermal insulation layer and provides natural ventilation by circulating the air from the bottom to the top to maintain a comfortable indoor environment. Although the sky is not directly visible from the membrane roof, one can sense the fluctuations of the environment through the changes of the light. As the sun rises, the space gradually becomes brighter, and in the evening, the space slowly becomes redder by the warm light. The brightness also varies between sunny and cloudy days. The roof acts like a layer of skin that transmits the changes of the exterior to the interior and transforms one's senses.
House with membrane roof
Architecture
Title

Date

2020.12 - 2022.07

For

residential

Size

60㎡

Status

Completed
Staff
Direction

Yuko Nagayama
Asuka Fujita
Shohei Yoshida / shohei yoshida + associates

Build

TSP TAIYO Inc.,ROOVICE

Structural Design

Yoshiyuki Hiraiwa Structural Engineers

Planting Design

Ogino Landscape Design

Photo

Satoshi Takae